Acoustic Doors and Green Design (Removed)
This course is no longer active. AEC Daily will not report completion information for this course.
Sound transmission control is an issue which should be addressed in the design of any building. Acoustic comfort is part of providing an amenable interior space and it requires having the proper level and quality of sound to utilize a space as planned. This course looks at the components, features, and the role of acoustic door assemblies in occupant comfort in both workplace and school environments.
Sponsored By: AMBICO Limited
Presented by: Stephen Peterman, AMBICO Limited
Presenter Background Information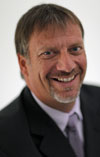 Name: Stephen Peterman
Title: Director of Sales and Marketing, AMBICO Limited
Background
Stephen Peterman is the Director of Sales and Marketing and has been with AMBICO Limited since 1988. He offers a unique perspective to our engineering, sales and marketing direction that is obtained through his customer contacts and understanding of the architectural process as well as a result of his technical expertise in the door manufacturing sector. Stephen is an Architectural Technologist Graduate. He has 28 years of experience working within the door and hardware industry and was the DHI Capital City Chapter President and is the current DHI Canada President. He is a key person in the organization ensuring that AMBICO'S products and services continue to remain at the forefront of the specialized door, frame, and window industry.
Delivery Format: Online, Self-Paced
Privacy Policy: AMBICO Limited Privacy Policy
HSW Eligibility: Yes