Exploring Product Selection for Health and Wellbeing Credits Across Sustainable Building Rating Systems
This course is no longer active. AEC Daily will not report completion information for this course.
There is a growing realization that the buildings we live and work in play an important role in the health and wellbeing of building occupants. Green building rating systems are starting to incorporate health and wellbeing criteria and this course will look specifically at how products and materials can help meet the health and wellbeing requirements across these systems.
Sponsored By: Underwriters Laboratories (UL)
Presented by: Josh Jacobs, Underwriters Laboratories
Presenter Background Information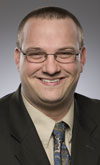 Name: Josh Jacobs
Title: Director, Environmental Code & Standards, Underwriters Laboratories
Background
Josh serves as the Director, Environmental Code & Standards for UL. He is responsible for environmental code, standard, and rating system engagement. In this role he helps develop and track the environmental programs/codes/purchasing programs that are being utilized and developed throughout the world. As a LEED AP BD&C, he has been able to assist architects, designers, specifiers, procurement teams and builders understand how to utilize products to build a more sustainable project. Josh has served on over 20 sustainable committees, including but not limited to ASHRAE 189.1, 2012 & 2015 NAHB National Green Building Standard, ANSI/BIFMA E3 joint committee, USGBC's Pilot Credit Committee and LEED Steering Committee. He also served on the original water and IEQ work group that developed the first public draft of the International Green Construction Code (IgCC). He is also a recurring guest lecturer at multiple universities and has spoken on sustainable building practices and purchasing policies at many conferences and continuing education events on five continents. Josh also serves or served as Chairman of the US Technical Advisory Group for ISO 20400 Sustainable Procurement, Chairman of the 2015 NAHB Material & IEQ Working Group, Vice Chair of Green Globes Material Task Group, and Chair for USGBC's Pilot Credit Committee.
Delivery Format: Online, Self-Paced
Privacy Policy: Underwriters Laboratories (UL) Privacy Policy
HSW Eligibility: Yes