Continuous Insulation: Comparing Energy Efficiency and Performance
This course is no longer active. AEC Daily will not report completion information for this course.
Continuous insulation (ci) was introduced in the IBC (International Building Code) in 2006 as a new topic primarily in the northern tier climate zones. Over the course of the next two code cycles, continuous insulation has become part of the prescriptive path in all climate zones and for virtually all types of wall assemblies. This course examines different types of insulation materials commonly used as continuous insulation. Attributes that affect material use, installation, and performance within exterior wall assemblies are compared and discussed.
Sponsored By: Hunter Panels
Presented by: MacGregor Pierce, Hunter Panels
Presenter Background Information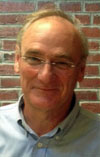 Name: MacGregor Pierce
Title: Xci Product and Technical Manager, Hunter Panels
Background
I joined Hunter Panels in 1999 roughly one year after the company was founded. During my years with Hunter I have directed logistics, spearheaded product development and have been active with codes and compliances. On the roofing side of Hunter I was the Specialty Products Manager and headed up the Technical Department. For the past five years I have lead Hunter Panels' development of our Xci wall insulation products. Today I am the Product and Technical Manager of this division. I have a B.A. from Hobart College (1976) in Geneva, NY. I started in the construction industry in 1972. I worked in residential construction in New Hampshire, Oregon, and Maine in both small and large companies, as well as running my own remodeling company. I spent most of the 1980's working for a General Contracting business building medium size commercial projects. Starting in 1989 I took a 10 year hiatus from construction working for an old northern New England chemical distribution company where I served as Engineering Manager, Operations Manager and finally VP of Operations. Our customer base included water treatment, wastewater, the paper and power industries, municipalities as well as site and road construction companies. I live in Freeport, ME and I'm married with 3 children (34, 32 & 27). I enjoy boating, skiing, golf and traveling. I love to build things, presently I am building a 20' wooden catboat and restoring (while using) a 36' wooden trawler.
Privacy Policy: Hunter Panels Privacy Policy
HSW Eligibility: Yes