Building the Perfect Envelope with Insulated Metal Panels
Understanding building physics is critical to proper building envelope design. Examined here are practical concepts for the building designer, including how cladding systems perform across different climate zones and applications. Environmental control layers and hygrothermal loads are reviewed, as is the concept of perfect/universal wall design. The course focuses on how single-component insulated metal panels (IMPs) function as a perfect/universal wall, simplifying wall system design and installation.
Sponsored By: CENTRIA, a Nucor company
Presented by: Andrew Ashton, CENTRIA, a Nucor company
Presenter Background Information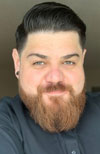 Name: Andrew Ashton
Title: Business Development Manager, CENTRIA, a Nucor company
Background
Currently serving as the Definitions Committee Co-Chair for the Rainscreen Association in North America, Andrew has spent the last decade specializing in rainscreen systems and building enclosures. He has assisted in the design and development of innovative rainscreen assemblies, trained dozens of installers on how to handle, fabricate, and install various types of materials and systems, and provided hundreds of hours of continuing-education AIA courses centered around building science and rainscreen concepts.
Delivery Format: Online, Self-Paced
Privacy Policy: CENTRIA, a Nucor company Privacy Policy
HSW Eligibility: Yes