Designing Restrooms for Sustainable Operation (Removed)
This course is no longer active. AEC Daily will not report completion information for this course.
Authentic sustainability requires a long-term approach to reducing impact on the environment and minimizing operational costs for building owners. This course addresses how to use this approach in restroom design by specifying products that save money, time, and resources, including those that reduce waste and usage of consumables, energy, and water. Guidance is provided on how to communicate to clients the full, long-term value of products that are aesthetically pleasing, sustainable, and easy to maintain so that the original design vision is more likely to endure.
Prerequisites:No
Course Level:Introductory
Sponsored By: Bobrick Washroom Equipment Inc.
Presented by: Alan Gettelman, Bobrick Washroom Equipment, Inc.
Presenter Background Information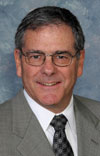 Name: Alan Gettelman
Title: Vice President, External Affairs, Bobrick Washroom Equipment, Inc.
Background
Alan Gettelman is Vice President of External Affairs at Bobrick Washroom Equipment Inc., where he previously served as Vice President of Marketing. Since joining Bobrick's sales promotion department in 1962, Gettelman has played a key role in the expansion of its product line and spearheaded marketing efforts facing distinct market segments, including architects, building owners, property managers and facility managers. Today, Gettelman is responsible for counseling on preparation of architectural specifications and on fire codes, building codes and accessibility standards compliance, as well as providing expertise in the areas of product development and marketing strategy.
Delivery Format: Online, Self-Paced
Privacy Policy: Bobrick Washroom Equipment Inc. Privacy Policy
HSW Eligibility: Yes