Smoke Containment Strategies for Elevator Hoistways and Lobbies
The spread of smoke in mid- and high-rise building fires is recognized as a major threat to the safety of the building occupants and responding fire personnel and the effectiveness of firefighting operations. This course explains how smoke migrates in a multistory building fire and discusses how building codes have evolved to address this danger and why they mandate smoke containment in specific areas of a structure. Product applications and assemblies designed to meet building code requirements and limit vertical smoke migration via elevator hoistways and lobbies are examined.
Sponsored By: Total Door
Presented by: Candace Kitchen, Total Door Systems
Presenter Background Information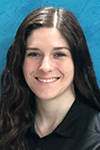 Name: Candace Kitchen
Title: Customer Service Specialist, Total Door Systems
Background
Candace is the Customer Service Specialist at Total Door Systems. She has worked closely with a code compliance specialist and is inspired by her commitment to life safety. She takes pride in her dedication to finding solutions. Her enthusiasm for code compliance and tested products gives her the drive to provide life safety solutions. Candace can be reached at candace@totaldoor.com or by phone at 248-623-6899.
Privacy Policy: Total Door Privacy Policy
HSW Eligibility: Yes