Thermoplastic Sheet Products for High-Performance Architectural Glazing
Building owners value daylighting and views but face security and safety challenges with large amounts of glazing. Thermoplastic sheet products offer a variety of glazing solutions that resist security threats while providing transparency, strength, and durability. This course introduces the grades and characteristics of acrylic and polycarbonate sheet products and discusses how they meet the requirements for protection against forced entry and ballistics.
Sponsored By: Plaskolite LLC
Presented by: Mike Coruzzi, Plaskolite LLC
Presenter Background Information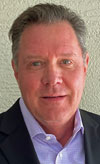 Name: Mike Coruzzi
Title: Regional Sales Manager, Plaskolite LLC
Background
Mike Coruzzi is a regional sales manager for Plaskolite LLC thermoplastic sheet products. He has worked for GE Specialty Film & Sheet and SABIC Functional Form in various commercial, market/segment development, and specification capacities.
Delivery Format: Online, Self-Paced
Privacy Policy: Plaskolite LLC Privacy Policy
HSW Eligibility: Yes