Fire Code Compliance and Insulated Metal Panels
Understanding how insulated metal panels comply with fire safety regulations under the code is critical to their proper use in creating highly energy-efficient and sustainable buildings. This course takes a relatively complex subject and addresses the most important fire safety aspects to allow building designers to make an informed decision on the use of these popular cladding systems. Also reviewed are how these products have been addressed in the development of the International Building Code and the various third-party product listings, evaluation reports, and engineering judgements used to show compliance.
Sponsored By: CENTRIA, a Nucor company
Presented by: Andrew Ashton, CENTRIA, a Nucor company
Presenter Background Information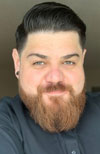 Name: Andrew Ashton
Title: Business Development Manager, CENTRIA, a Nucor company
Background
Currently serving as the Definitions Committee Co-Chair for the Rainscreen Association in North America, Andrew has spent the last decade specializing in rainscreen systems and building enclosure. He has assisted in the design and development of innovative rainscreen assemblies, trained dozens of installers on how to handle, fabricate, and install various types of materials and systems, and provided hundreds of hours of continuing-education AIA courses centered around building science and rainscreen concepts.
Delivery Format: Online, Self-Paced
Privacy Policy: CENTRIA, a Nucor company Privacy Policy
HSW Eligibility: Yes