Acoustical Concepts
The acoustical comfort level in the workplace is a key measure of the quality of the indoor environment for building occupants. This course explores key concepts and characteristics of sound, as well as speech intelligibility and privacy and their associated acoustical remedies. Also presented is the use of sound absorbers and diffusers as acoustical solutions to noise problems.
Sponsored By: Unika Vaev
Presented by: Rob Morgenstern, Unika Vaev
Presenter Background Information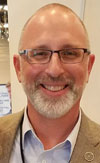 Name: Rob Morgenstern
Title: VP of Sales, Unika Vaev
Background
Rob Morgenstern is the Vice President of Sales for Unika Vaev and has over 25 years of experience in the contract furniture industry. Mr. Morgenstern holds a Bachelor's of Science Degree from San Diego State University and has spent most of his career working closely with furniture dealers, architects/designers, installation companies, and end users.
Delivery Format: Online, Self-Paced
Privacy Policy: Unika Vaev Privacy Policy
HSW Eligibility: Yes