Roof Glazing Products: Design and Performance Considerations
Roof glazing products can positively affect building occupants by illuminating the interior of a space, providing views to the outside, and allowing for natural ventilation. There are many factors to be considered during the product selection process to ensure performance goals are realized. Presented in this course are roof window and skylight design and performance criteria, relevant building codes and standards, and types of roof windows and skylights and their features.
Sponsor: FAKRO America LLC
Presenter: Tomasz Glab, Fakro America LLC
Presenter Background Information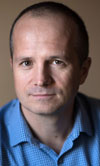 Name: Tomasz Glab
Title: Operations Manager, Fakro America LLC
Background
Tomasz Glab is an Operations Manager at Fakro America LLC where he provides technical support for architects and contractors. Tomasz graduated from the Technical University in Lublin, Poland and in 2002 he started building his experience working in the construction industry. Tomasz enjoys photography and home improvement projects.
Delivery Format: Online, Self-Paced
Duration: 1 hour 15 minutes
Privacy Policy: FAKRO America LLC Privacy Policy
HSW Eligibility: