Permeable Walkways with Decomposed Granite and Natural Aggregate Pathway Materials
Parks, recreational areas, and common rural and urban spaces can be essential relaxing oases. Pathways that navigate through these public spaces should be functional and durable and complement the natural environment. This course explores pathway materials and focuses on decomposed granite (DG) and natural aggregates. It discusses the types of pathways, their applications, installation, and maintenance, as well as their contribution to green design.
Sponsored By: Kafka Granite, LLC
Presented by: Tiffany Koss, Kafka Granite
Presenter Background Information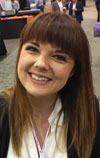 Name: Tiffany Koss
Title: Director of Sales & Marketing, Kafka Granite
Background
Tiffany Koss grew up fully immersed in her family business, so it was only natural that she developed a passion for Kafka Granite's diverse range of crushed stone products from an early age. She began introducing the company's products to architects on her summer breaks in high school, and continued working for the company remotely while continuing her education at the University of St. Thomas. With an emphasis on product education, she has played an instrumental role in growing the company's brand and defining its product line. Tiffany now also focuses on the growth of Kafka Granite's sales department as the Director of Sales & Marketing while simultaneously preparing for second-generation ownership.
Delivery Format: Online, Self-Paced
Privacy Policy: Kafka Granite, LLC Privacy Policy
HSW Eligibility: Yes