Acoustic Door Assemblies and Their Role in Sound Control
Sound control is a critical element in a building's design. We all think of the walls, ceiling, and floor when discussing sound attenuation, but without the proper acoustic door, the sound-control goals in an acoustic plan may not be met. This course reviews healthy sound levels and how to test and identify target STC ratings. Also discussed are the elements of acoustic door assemblies and how they address fire ratings and ADA compliance, contribute to LEED® certification and green building, and provide security for classified files and electronic data.
Sponsored By: AMBICO Limited
Presented by: Stephen Peterman, AMBICO Limited
Presenter Background Information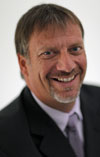 Name: Stephen Peterman
Title: Director of Sales & Marketing, AMBICO Limited
Background
Steve Peterman is the Director of Sales and Marketing and has been with AMBICO Limited since 1988. With 32 years at AMBICO, Steve has spent many years in engineering and operations fostering detailed product knowledge. His role and technical knowledge are key to ensuring that AMBICO's services and marketing continue to remain at the forefront of the specialized door, frame, and window industry.
Delivery Format: Online, Self-Paced
Privacy Policy: AMBICO Limited Privacy Policy
HSW Eligibility: Yes