Safe Water Delivery in Healthcare Facilities
Just as healthcare providers strive to stop the spread of disease at its source in the body, so too are facilities trying to stop the source of waterborne viruses and bacteria before they get out of control. This course highlights the concerns and consequences of improper water delivery in healthcare facilities and discusses why they are embarking on a systems approach and using a monitoring system to manage water and infection control.
Sponsored By: Morris Group
Presented by: Dennis DeHaan, Acorn Controls/Acorn Safety
Presenter Background Information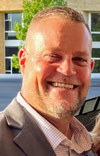 Name: Dennis DeHaan
Title: National Sales Manager, Acorn Controls/Acorn Safety
Background
Dennis DeHaan is the National Sales Manager for Acorn Controls and Acorn Safety. He has worked closely with engineers in the plumbing industry over the last 20-plus years, sharing his vast knowledge on the topics of water safety, control valves, and water management design and implementation. Dennis attended Purdue University and resides in Indiana with his wife of 24 years and their four children.
Delivery Format: Online, Self-Paced
Privacy Policy: Morris Group Privacy Policy
HSW Eligibility: Yes