Selecting & Installing Underground Enclosures
Underground enclosures provide safety for pedestrians and vehicles and easy access for maintenance and repair. This course presents an overview of underground enclosures for nondeliberate traffic areas, including selection considerations, load ratings, placement, and installation, with a discussion of the ANSI/SCTE 77 performance standard.
Sponsored By: Hubbell Power Systems – Enclosures
Presented by: Robert Fox, Hubbell Power Systems
Presenter Background Information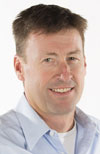 Name: Robert Fox
Title: Product Manager, Hubbell Power Systems
Background
Robert Fox is responsible for the management of the Enclosure business unit communications product lines and worldwide profits or losses of those lines. He is also responsible for the development of new markets for existing products, generating new product ideas and following through with the development that often includes establishing pricing, promotion, and resolving product concerns. Robert collaborates with sales, engineering, and operations to ensure continuity in product offering and customer goals.
Delivery Format: Online, Self-Paced
Privacy Policy: Hubbell Power Systems – Enclosures Privacy Policy
HSW Eligibility: No