Exciting, New Thin Stone Offering From Ontario Plant: Stack™
CAMBRIDGE, ONTARIO – Arriscraft, manufacturer of naturally-made products that emulate quarried stone, has expanded production capabilities in Cambridge, Ontario to produce Stack™ thin stone (previously known as ARRIS.Stack). Arriscraft is the stone products group of General Shale, the North American subsidiary of Wienerberger AG and a leading manufacturer of brick, one of the world's oldest green building materials.
"Our newly developed, production line allows us to produce our popular Stack thin stone in Canada," says Marta Zonneveld, Marketing Manager. "Before this, our ARRIS.Stack product came exclusively from our Georgia plant. Now our Canadian and Northeastern U.S. customers have better access to our thin stone line, with a great selection of colors."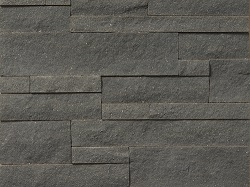 Stack delivers the aesthetic of full bed stone (with return corner units) yet offers the ease of thin stone installation (applied with adhesive to a suitable substrate). A ledger style stone, Stack features an authentic, split face finish and random lengths (from 4" to 12") in three face rises (2-1/8", 3-5/8" and 5-13/16"), which are conveniently pre-blended to create an ashlar configuration. The new color selection, exclusive to the Cambridge facility, includes a broad color range and six standard colors: Blackcomb, Byward, Granville, Inglewood, Ville-Marie, and Yorkville.
Arriscraft's Natural Process technology uses only natural materials (plus color pigments) and replicates how stone is created in the earth. This proprietary process creates stone with the natural aesthetics and durability of quarried stone, plus the convenience of standard installation and unlimited supply.