Arriscraft Introduces Adair® Clip: Large Format Limestone Panels
CAMBRIDGE, ONTARIO – Arriscraft, manufacturer of naturally-made products that emulate quarried stone, has introduced an incredibly exciting thin natural limestone product - Adair® Clip. Arriscraft is the stone products group of General Shale, the North American subsidiary of Wienerberger AG and a leading manufacturer of brick, one of the world's oldest green building materials.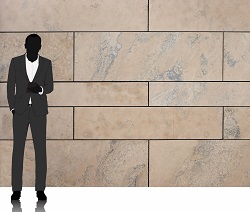 "Adair® Clip is unlike any other stone cladding on the market. We've essentially designed very large sheets, or panels, of limestone that clip into a channel system for an outstanding aesthetic," says Craig Swirzon, Thin-Clad Product Manager. "Not only does Adair® Clip offer a completely unique look – with panels up to six feet long - it's also natural limestone which means its performance and durability is unmatched by concrete-based manufactured stone."
At 1-1/4" thickness, Adair® Clip is designed for installation using the Gridworx® channel system, which Arriscraft has successfully used for its thin ARRIS.clip calcium silicate stone product for many years. Three heights - 11-3/4", 15-3/4", 23-3/4" - are available in lengths of 47-3/4" and 71-3/4" making this finished installation absolutely unique. Customers can choose from Blue-Grey or Sepia tones, in Fleuri or Veined patterns.
Arriscraft's Adair® Limestone is a natural, quarried stone harvested in the Georgian Bay region of Ontario. Since the 1960s, the quarry has offered Blue-Grey and Sepia tones. In addition to Parliament, Arriscraft produces Adair® Masonry Units, Anchored Dimension Stone, Landscaping Stone, Thin Adair® and Tile.