Hadrian Takes Enhanced Privacy To New Heights With Elite Max
Growing demand for more privacy options and gender neutral toilet partition solutions was the catalyst behind the introduction of Hadrian's new Elite MAX toilet partition series, which features 92-inch high doors and panels while also eliminating all sightline gaps.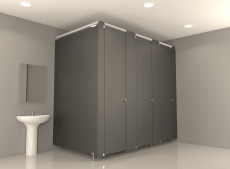 Hadrian Elite Max enhanced privacy toilet partition
Available in 22 powder coated colors and stainless steel finishes, Elite Max is the most private solution of Hadrian's Elite series. 92-inch high doors, panels mounted 4 inches (102mm), 6 inches (152mm) or 9 inches (229mm) above the finished floor with continuous stop, hinge filler and continuous channel made to match the height of the partition.
Architects and designers can choose from three styles to achieve the level of privacy required for the space. Headrail braced mounted 6 to 12 inches AFF, headrail braced with pedestal 4 or 9 inches AFF, or floor to ceiling mounted 6 to 12 inches AFF.