Multi-Cor from McElroy Metal installed as residential wall panels
Corrugated metal shines on architect's unique river view home
Bossier City, La. — Practicality and product familiarity led an architect and his wife to choose corrugated metal panels for the exterior walls of the home they built for the view along the Mississippi River. McElroy Metal's Multi-Cor panels, installed horizontally, provided the durability and unique aesthetic they were looking for.
The back of the Ingram home faces the river from just outside of Vicksburg, Miss. Viewing sunsets over the Mighty Mississippi is a great way to wrap up each day.
"We built it for the view," says Paul Ingram, owner of Ingram and Associates in Vicksburg. "There are very few vacant lots with Mississippi River views left here and this property is triangular in shape, lending itself to an unconventional floorplan. The design was not conducive to brick, with exterior walls extending over lower walls.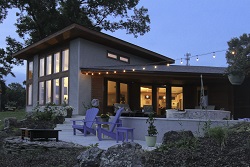 "I'm an architect. This home is for me and my wife, but I haven't had much experience designing homes. My niche the last few years has been convenience stores with gas stations. I became familiar with McElroy Metal a long time ago, using their soffit panels on canopies over gas tanks."
Ingram says the metal was less expensive to install than brick veneer and the 24-gauge corrugated metal and factory finish exceeded his expectations. Consistent, rounded corrugations make Multi-Cor the ideal panel to provide a strong appearance. The 3,000 square foot home required 3,037 square feet of Multi-Cor panels from McElroy, in the color Ash Gray, a PVDF coating from Sherwin-Williams.
"The aesthetic intent was to have contrasting color and materials, but with prominent horizontal lines, which resulted in the light gray metal and western red cedar," Ingram says.
To create an air space between the panels and the 2x6 studs, plastic furring strips called Sturdi-Starter, from Cor-A-Vent Incorporated, were installed to the studs. Open cell spray foam insulation between the studs provided an R-value close to 25. The home has 57 windows and doors.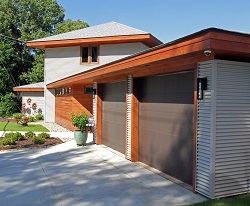 "It was a lot of work, but I knew I could do it," says Mike Hogan, owner of Riverbend Construction in Vicksburg, Tenn. "I've been around metal all my life, so we just got right in there, figured out what we had to do and made it work. It was me and one other guy and we were onsite the better part of a month, so about 20 working days."
The key to any successful installation is working with properly constructed framing. Lance Murrah does a lot of framing in the area for Richard Coward Inc., the general contractor on the project, and Hogan says everything was level and straight.
"We started on the long wall and installed panels from left to right so you couldn't see the laps from the front," Hogan says. "We did the same thing on the triangles right above that. About three days into the job, Paul texted me and said he liked the way everything was looking. We took special care to do it right.
"At first, I wasn't sure this is something I would consider doing if I ever built my own house, but it turned out pretty neat. I'd definitely consider it. It is a unique application."