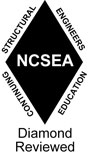 NCSEA. NCSEA National Council of Structural Engineers Association - ncsea.com
Composite construction utilizes dissimilar materials to exploit the benefits of each. While composite construction in general has been used extensively for several decades, open-web composite joist construction is now becoming a more popular choice through new and innovative solutions. This course presents the components and benefits of composite joist systems, addresses connector types and layouts, and offers specification tips and design considerations.

In today's market, designers are always looking for innovative products that are beautiful, versatile, and sustainable. Glass-quartz surfacing encompasses all of these characteristics. This course describes the importance of recycled content surfaces and their environmental significance, including reducing the use of natural resources and improving indoor air quality. Traditional and recycled surfacing materials are compared, the sustainable manufacturing process is explained, and life cycle environmental impact and case study applications are discussed.

Prerequisites: No

Course Level: Introductory

This course is part of one or more "Course Collections". Click here to view the details...