CBS manufactures optimized construction composites to replace wood and concrete block as a structural support framing material. These fiberglass supports are combined with any siding in any building design and produced on an automated factory assembly line. The structural protective shell of the building is erected and roofed by factory trained crews in one day.


Builders finish the exterior architectural details and add interior walls, wires, plumbing, and sheeting to finish construction. Trades continue to use their same tools, materials, and methods without retraining. This service for includes the builder's choice of windows, doors, electric boxes, insulation and exterior sheeting and is delivered within 2 weeks of order.




Optimized composites are replacing aircraft parts as a superior performance material. Fiberglass pultrusion composites have replaced all the wood ladders. CBS fiberglass composites will have a similar effect in the construction industry on wood and concrete block.


Physical testing confirms 350 MPH wind resistance. Calculations confirm earthquake resistance to the Kobe or San Francisco earthquakes with a 350% safety margin because fiberglass pultrusions flex slightly and recover after the stress like a bow and arrow.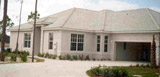 Studs are over 80% continuous fiberglass strands and are termite proof, fire proof, mold proof, rodent proof, electrically non-conductive, and electronically transparent. Originally developed as a military material, this technology enables 2,600 pounds of structural supports to replace 21,000 pounds of lumber, or 81,000 pounds of concrete block in an average 2,000 square foot home. None of the raw materials are currently in the construction supply streams.