Climate-Positive Decorative Panels: From Forest Management to Material Substitution
Millennial consumers are committed to making environmentally sustainable purchasing choices. But what makes a product truly sustainable? This course presents data to show that thermally fused laminate (TFL) and other waste wood fiber products are among the most sustainable building materials on the market. Forest management, the properties that make wood climate positive, efficiencies in the panel manufacturing process, and the criteria and processes behind environmental certification are discussed.
Sponsored By: Uniboard
Presented by: Ariane Bouchard, Uniboard
Presenter Background Information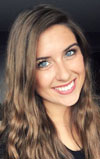 Name: Ariane Bouchard
Title: Marketing Manager, Uniboard
Background
Every brand has a story—to bring the story to life, we must inform, engage, and surprise the audience while offering a significant value. I help teams turn ideas into result-oriented tactics. These may range from producing high-quality content to developing new measurement tools. I am currently Marketing Manager at Uniboard, where I've collaborated with partners and consumers on strategic projects such as brand building, product launches, website redesign, and omnichannel marketing campaigns. I will also be part of the Canadian Olympic Committee's digital media team for Tokyo 2021. My specialties include communications, consumer behavior, social media, and content marketing. My professional interests are creativity, design, innovation, new product development, and HR marketing.
Delivery Format: Online, Self-Paced
Privacy Policy: Uniboard Privacy Policy
HSW Eligibility: Yes