Nonsequential MCM Panel Systems: Speed, Efficiency, and High Performance
Approximately 1 hour
Nonsequential panel systems can keep your project on schedule and under budget while maintaining unique design aesthetics. This course shows how the cost of metal building façades can be minimized by using a nonsequential panel installation system. Metal composite material (MCM) cladding and its use in rainscreen systems is discussed, as well as common design pitfalls that can compromise the watertightness of the building envelope.
Presented by Brian Sandberg on behalf of Fairview Architectural.
This course is ONLINE: SELF-PACED. Experience it on your own schedule, at your convenience.
This course IS Health, Safety and Welfare eligible.
Sustainability Rating System
AEC Daily uses the following classification system to identify varying levels of sustainable design information contained within courses.
This course contains minimal sustainable design information.
This course contains partial sustainable design information.
The majority of this course is made up of sustainable design information and this course may qualify for USGBC approved GBCI CE Hours, please check course details pages for particulars.
The focus of this course is sustainable design. This course may qualify for USGBC approved GBCI CE Hours, please check course details pages for particulars.
This course contains sustainable design education. These courses are approved by GBCI for Specific CE hours.
Accessibility Information
One symbol indicates courses that address accessible design in a small portion of the course. These courses do not meet the requirements of the California Architects Board. Please verify with other state boards before considering these courses as accessibility education.
Two symbols indicate a course in which the majority of the material covers accessible design. These courses may meet the requirements of the state boards. Verify the requirements with the boards (i.e. California and Texas) for accessibility education.
Presenter Background Information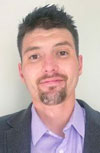 Name: Brian Sandberg
Title: Arrowhead Product Manager, Fairview Architectural
Background
Brian Sandberg started his career on construction sites working on the front line, installing products, including Fairview's aluminum panels, on a variety of building projects and using a range of installation systems. Since setting down his tools and joining Fairview, Brian has assumed responsibility for the Arrowhead range of panel installation systems and uses his vast experience to help architects to design and specify the most reliable metal cladding panel installation system to meet their specific project needs. Brian liaises with all stakeholders on a range of different building projects as well as overseeing the training and management of Fairview's Arrowhead installer and fabricator network. Brian also presents courses and webinars relating to Arrowhead and installation panel systems in general.