Shining a Light on BIM - An Enlightening Introduction
Provides an overview of how designers and engineers have moved from their basic 2D environment into a highly intelligent, collaborative world based in the cloud. Design, construction, and building maintenance will never be the same.
Sponsored By: Cooper Lighting Solutions
Presented by: Rosalind Pumphrey, Eaton
Presenter Background Information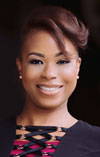 Name: Rosalind Pumphrey
Title: BIM Manager, Eaton
Background
Rosalind Pumphrey has 20 years of work experience in the AEC Industry consisting of project management, production, and coordination of architectural, structural, MEP construction drawings and 25 years of combined experience with BIM and CAD software. She has overseen numerous projects consisting of office buildings, distribution centers, healthcare facilities, hospitality, and housing developments. She has also mentored Project Managers, CAD/Revit Specialists, and resources in India and Argentina. She is an Autodesk Revit Certified Professional. She received her Specialized Associate Degree in Architectural Drafting Technology from New England Institute of Technology (Florida) and her BFA from American InterContinental University (Georgia).
Privacy Policy: Cooper Lighting Solutions Privacy Policy
HSW Eligibility: No