Improving and Prolonging the Performance of Finished Concrete Floors
With the relatively recent development of new products and procedures for polishing concrete, concrete floors have added aesthetic appeal to their list of impressive performance characteristics. This course will discuss improving and prolonging the performance of finished concrete floors by exploring the many benefits of concrete flooring, summarizing the procedure for creating concrete floors, explaining maintenance methods and spill removal, and explaining how a floor protection plan will aid in the prolonged service life of the floor.
Sponsor: PROSOCO
Presenter: Kevin Sigourney, PROSOCO, Inc.
Presenter Background Information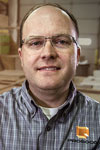 Name: Kevin Sigourney
Title: Vice President of Brand Integrity, PROSOCO, Inc.
Background
Kevin Sigourney is PROSOCO's Vice President of Brand Integrity, overseeing all aspects of the company's sales and brand strategy operations. He has 17 years of experience in the construction industry, of which the first 10 were devoted to managing PROSOCO's industry-leading Customer Care Department. In 2011, Sigourney was promoted to direct all national activities of the company's Consolideck product line, including densifiers, hardeners, stains, and other products for the concrete flooring industry. In 2017, he was promoted to his current role.
Delivery Format: Online, Self-Paced
Duration: 1 hour
Privacy Policy: PROSOCO Privacy Policy
HSW Eligibility: