Low-Slope Roofing: Why Choose Thermoplastic Single-Ply Roofing Systems?
Their cost, flexibility, and relative ease of installation are just a few of the reasons that single-ply roofing membranes have seen a growth in popularity over the years. With a focus on commercial roofing systems, this course explores the drawbacks of traditional asphaltic roofing as well as the advantages and disadvantages of single-ply roofing systems and their attachment technologies.
Sponsored By: GAF
Presented by: Tom Taylor, GAF
Presenter Background Information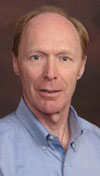 Name: Tom Taylor
Title: Executive Director, Building & Roofing Science, GAF
Background
Tom Taylor is the Executive Director, Building & Roofing Science, for GAF. This position is focused on the relationships between individual roofing materials and the overall roof system and building envelope performance. Tom is a frequent presenter at both national and regional industry meetings. He has over 20 years' experience in the building products industry, all working for manufacturing organizations in a variety of new product development roles. He received his PhD in chemistry and holds approximately 35 patents.
Delivery Format: Online, Self-Paced
Privacy Policy: GAF Privacy Policy
HSW Eligibility: Yes