Biophilic Design and Resilient Flooring
The recent shift towards protecting the environment has also brought about a better understanding of our innate need to reconnect with our natural surroundings. This is known as biophilia. In this course, we will examine the elements of biophilic design and how to implement biophilic design strategies, known to improve physical and mental well-being of occupants. The use of resilient flooring in commercial applications offers an opportunity to implement biophilic design.
Sponsored By: HMTX Industries
Presented by: Rick Taylor, HMTX
Presenter Background Information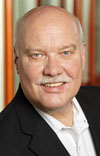 Name: Rick Taylor
Title: Director of Training, HMTX
Background
Rick Taylor has spent the past 18 years with the Metroflor/Halstead/Aspecta organizations and has worked in sales, customer service, technical services, and product development. He attended SUNY Delhi and studied Building Construction. He worked as a general contractor for a few years and then spent the next 22½ years in the transportation, moving and storage, and logistics industry before coming to work in the building materials industry. Rick was born and raised in Rye, NY and resides in Westchester County in Yorktown Heights, NY with his wife and daughter.
Delivery Format: Online, Self-Paced
Privacy Policy: HMTX Industries Privacy Policy
HSW Eligibility: Yes