Preservative-Treated Wood: Specification and Use
In applications where wood may be exposed to moisture, insects, or fungal organisms, preservative-treated wood can ensure a project's durability. This course reviews: the manufacturing process for pressure-treated wood; types of preservative treatments and the required levels of retention as dictated by the end-use application, desired service life, and exposure conditions; American Wood Protection Association (AWPA) Use Category standards; current issues concerning preserved wood in residential and commercial construction; and Best Management Practices (BMPs) for aquatic uses.
Sponsor: Western Wood Preservers Institute
Presenter: Butch Bernhardt, Western Wood Preservers Institute
Presenter Background Information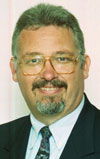 Name: Butch Bernhardt
Title: Senior Program Manager, Western Wood Preservers Institute
Background
Butch Bernhardt is the Senior Program Manager for the Western Wood Preservers Institute. His responsibilities include product education, technical publications, standards, distance learning, and digital design tools for preserved wood products.
Bernhardt has extensive experience in wood promotion, providing product support, user education, and international market development for more than three decades in positions with WWPI, Western Wood Products Association, Softwood Export Council, and Western Red Cedar Lumber Association.
Delivery Format: Online, Self-Paced
Duration: 1 hour
Privacy Policy: Western Wood Preservers Institute Privacy Policy
HSW Eligibility: