Rooftop Solar Photovoltaic Systems: The Good, the Bad, & the Ugly
A rooftop solar photovoltaic system offers myriad benefits to both building owners and the environment; to maximize the benefits, however, it is important to be aware of the potential causes and effects of problems with rooftop installations. This course presents the issues to consider to prevent damaging the roof, voiding the roofing warranty, and incurring additional costs. Solar system mounting options are explored in terms of how they can help eliminate concerns around rooftop installations.
Sponsored By: Sika Sarnafil
Presented by: Stanley P. Graveline, Sika Sarnafil
Presenter Background Information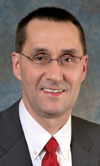 Name: Stanley P. Graveline
Title: Senior Vice President, Technical Services, Sika Sarnafil
Background
Stanley P. Graveline is Senior Vice President, Technical Services, Sika Corporation – Roofing, Canton, MA. He has worked in the roofing industry for more than 35 years in various technical, sales, and management capacities in Canada, Switzerland, and the USA. He has participated in technical committees and standards writing bodies in North America and Europe.
Stan has written numerous articles and papers and is a speaker at various national and international symposiums and other industry events on roofing and sustainability topics. He has a Bachelor of Applied Science (Chemical Engineering) degree from the University of Ottawa and a Masters of Business Administration from the International Institute for Management Development, Lausanne, Switzerland.
Delivery Format: Online, Self-Paced
Privacy Policy: Sika Sarnafil Privacy Policy
HSW Eligibility: Yes