Transparency: The Role of Environmental Product Declarations
This course is no longer active. AEC Daily will not report completion information for this course.
Driven largely by public interest in minimizing the potential environmental impact of building products, architects and builders actively embrace "green" initiatives and are calling for building product transparency. The Environmental Product Declaration (EPD) was developed to address this need. This course examines the EPD and includes discussions on who wants EPDs and why, the EPD development process, the contents of an EPD, and the future of EPDs.
Sponsor: Underwriters Laboratories (UL)
Presenter: Josh Jacobs, Underwriters Laboratories
Presenter Background Information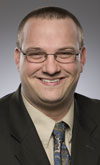 Name: Josh Jacobs
Title: Director of Environmental Codes & Standards, Underwriters Laboratories
Background
Josh serves as the Director, Environmental Code & Standards for UL. He is responsible for environmental code, standard, and rating system engagement. In this role he helps develop and track the environmental programs/codes/purchasing programs that are being utilized and developed throughout the world. As a LEED AP BD&C, he has been able to assist architects, designers, specifiers, procurement teams and builders understand how to utilize products to build a more sustainable project. Josh has served on over 20 sustainable committees, including but not limited to ASHRAE 189.1, 2012 & 2015 NAHB National Green Building Standard, ANSI/BIFMA E3 joint committee, USGBC's Pilot Credit Committee and LEED Steering Committee. He also served on the original water and IEQ work group that developed the first public draft of the International Green Construction Code (IgCC). He is also a recurring guest lecturer at multiple universities and has spoken on sustainable building practices and purchasing policies at many conferences and continuing education events on five continents. Josh also serves or served as Chairman of the US Technical Advisory Group for ISO 20400 Sustainable Procurement, Chairman of the 2015 NAHB Material & IEQ Working Group, Vice Chair of Green Globes Material Task Group, and Chair for USGBC's Pilot Credit Committee.
Delivery Format: Online, Self-Paced
Duration: 1 hour
Privacy Policy: Underwriters Laboratories (UL) Privacy Policy
HSW Eligibility: