Cellular PVC R&R Prefinished Shingles: Milling Makes the Difference
Homeowners are looking for alternatives to traditional cladding materials that are affordable and long lasting and require little or no upkeep. Advances in technology and manufacturing techniques mean cellular PVC cladding products can meet all these requirements without sacrificing aesthetics. This course reviews the benefits of cellular PVC as a cladding material and discusses how cellular PVC rebutted and rejointed (R&R) prefinished shingles can provide the look and feel of wood shingles with an extended level of durability and low maintenance.
Sponsored By: Jain Building Products
Presented by: Sara Schopfer, Jain Building Products
Presenter Background Information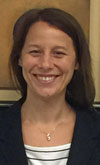 Name: Sara Schopfer
Title: National Sales Manager, Jain Building Products
Background
After graduating from OSU, I was introduced to Jain Americas Inc. and was hired as Insides Sales. Within 6 months, I was promoted to an Outside Sales position. I worked for both the Sign & Graphics and the Building Materials Markets and worked in a 13-state territory throughout the Midwest. In 2009, I was offered a position as the Customer Relations Director for the Building Materials Division. At the same time, Jain was taking control of the NuCedar Mills sister company, in which I was also helping oversee. In 2015, I became National Sales Manager of the Jain's Building Materials Group, including our EX-Cel PVC Trim & Sheet and NuCedar Pre-finished Siding & Trim Lines.
Delivery Format: Online, Self-Paced
Privacy Policy: Jain Building Products Privacy Policy
HSW Eligibility: Yes