3 Steps to Understanding Commercial Solar Lighting Specifications
This course is no longer active. AEC Daily will not report completion information for this course.
It's easy to be overwhelmed by outdoor solar lighting specs and components, especially when every manufacturer presents its products differently. Lighting professionals can help clients put these manufacturers on an equal playing field. Providing an in-depth introduction into the technology and benefits of off-grid solar lighting, the course explores why clients choose commercial solar lighting, what components make up a solar lighting system, and the three steps lighting professionals can take to ensure their clients choose a reliable, efficient, and cost-effective solution that meets their unique expectations.
Sponsored By: Sunna Design Inc.
Presented by: Jake Dobson, SOL® by Sunna Design
Presenter Background Information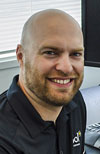 Name: Jake Dobson
Title: Technical Sales Specialist, SOL® by Sunna Design
Background
Jake Dobson, Technical Sales Specialist, is responsible for developing and introducing new products for SOL® by Sunna Design, a global leader in solar-powered commercial LED lighting solutions. Through years of experience, Jake has honed his expertise in the solar lighting industry. SOL® strives to provide lighting that is engineered smart, built tough, and accurately sized for streets, pathways, parking lots, and more.
Delivery Format: Online, Self-Paced
Privacy Policy: Sunna Design Inc. Privacy Policy
HSW Eligibility: Yes