Designing a Modern, Compliant Mail and Package Room
Centralized mail and package delivery is often a last-minute consideration that causes confusion due to the various compliance and accessibility requirements needed to complete the installation. This course is designed to demystify the process by providing a clear explanation of several mailbox installation specifications, accessibility standards, and design strategies.
Sponsor: Florence Corporation
Presenter: Michael Travisano, Florence Corporation
Presenter Background Information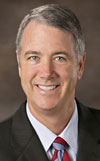 Name: Michael Travisano
Title: Regional Sales Manager, Florence Corporation
Background
Mike Travisano has built his career supporting architects and engineers and helping them find the right product solutions. Over the last 29 years, Mike has worked in primarily two major industry segments—first Industrial Automation, and now with Florence in the building products industry. Mike leads our architectural sales program in addition to covering a geographic sales area for Florence. If your firm is interested in on-site continuing education sessions, Mike will be happy to arrange a Florence team member to support your architectural learning needs.
Delivery Format: Online, Self-Paced
Duration: 1 hour
Privacy Policy: Florence Corporation Privacy Policy
HSW Eligibility: