Improving Outdoor Living Environments with Bamboo Fiber Composites
Bamboo, with its superior strength, light weight, ease of use, and ability to be regrown quickly, has been utilized as a construction material in its natural state for many centuries. More recently, it has been combined with other elements to create improved materials such as bamboo fiber composite decking and fencing. This course, illustrated with harsh climate installations from around the world, explains this advancement, the products now available, and how to certify, specify, install, and maintain them.
Sponsored By: Fortress Building Products
Presented by: C. Todd Smith, Fortress Building Products
Presenter Background Information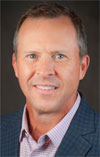 Name: C. Todd Smith
Title: Area Specifications Manager, Fortress Building Products
Background
Combined with professional experience and years of building material sales and representation, Todd relates with designers, contractors, and manufacturers, understanding their roles, needs, and goals in the construction process… passionately and respectfully working hard to provide innovative and team-oriented solutions to better the outdoor built environment. Todd enjoys time with his three grown daughters and being outdoors, especially in the mountains.
Delivery Format: Online, Self-Paced
Privacy Policy: Fortress Building Products Privacy Policy
HSW Eligibility: Yes