Energy Efficiency in Data Centers: The Importance of Airflow Management and Monitoring
Data centers, some consuming up to 200X the energy of comparably sized office space, are rapidly evolving in numbers, size, location, and energy demands. These facilities are frequently becoming integrated into other buildings and the purview of the architect. This course reviews the data center impact on building design and then identifies and describes the most effective design approaches and fitments that building designers can employ to control their capital and operating costs, spatial needs, and energy consumption.
Sponsored By: Chatsworth Products
Presented by: David Knapp, Chatsworth Products
Presenter Background Information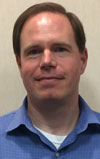 Name: David Knapp
Title: Product Marketing Manager, Chatsworth Products
Background
David Knapp has more than 18 years of experience in the telecommunications industry with CPI as a product-application expert and technical communicator in the roles of Technical Support, Technical Writer, and Product Marketing Manager. He is currently focusing on data center, enterprise networking, and power management solutions.
Privacy Policy: Chatsworth Products Privacy Policy
HSW Eligibility: Yes