Artificial Turf for Residential and Commercial Landscapes
Artificial turf is essentially a flooring fabric made from a variety of materials and layers. Since its creation, the artificial turf industry has studied the behavior of natural grass and the safety and sustainability of artificial grass. This course examines today's artificial grass systems and discusses how they are carefully planned, designed, and built to suit the specific needs of an outdoor residential or commercial landscape.
Sponsor: FieldTurf Commercial
Presenter: Jason Mayer, FieldTurf Commercial
Presenter Background Information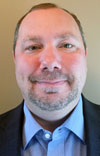 Name: Jason Mayer
Title: Director of Contracting, FieldTurf Commercial
Background
Jason has worked in the synthetic turf industry for more than seven years serving as Director of Contracting and comanager of the commercial division for EasyTurf/FieldTurf Commercial. He is responsible for the operational management, budget oversight, and leadership of contracting activities related to commercial synthetic turf projects installed throughout North America. Jason is also in charge of overseeing the company's product specifications and managing all local, state, and federal contracting systems.
Jason began his professional career as a US Marine, serving for eight years as a Public Affairs Specialist and BRACC Contracting Specialist. He then served as the Director of Government Operations for MARCOA Publishing for eight years, managing the day-to-day operations for more than 200 annual government contracts including the coordination of 75 employees spread across eight different departments.
Delivery Format: Online, Self-Paced
Duration: 1 hour
Privacy Policy: FieldTurf Commercial Privacy Policy
HSW Eligibility: