Building Shielding: Architectural Solutions for Security and Performance
Buildings need protection from cyber as well as physical threats. Building shielding offers several architectural solutions that contribute to the security of both building occupants and wireless systems. These solutions also help reduce unwanted solar heat and glare while providing protection from the elements and people seeking to cause harm. This course presents the security and performance benefits of shielding technology that can improve wireless performance, energy efficiency, and occupant comfort, satisfaction, and safety.
Sponsored By: Signals Defense
Presented by: Eric Kuczynski, Signals Defense
Presenter Background Information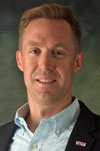 Name: Eric Kuczynski
Title: Vice President of Operations, Signals Defense
Background
Eric Kuczynski is the President of Signals Defense and has been with the company since 2005. He has provided oversight for all of the company's major projects, and is currently leading Government and International Business Development. Mr. Kuczynski brings more than fifteen years of experience in government, commercial, and private contracting and management to Signals Defense. Mr. Kuczynski came to Signals Defense from the Whiting-Turner Contracting Company, and holds a degree in Civil Engineering from Lehigh University.
Delivery Format: Online, Self-Paced
Privacy Policy: Signals Defense Privacy Policy
HSW Eligibility: Yes