Leading-Edge, Sustainable Stadium Design
Professional sports stadiums form large complexes with enormous impacts on the environment and local communities. Owners, architects, and operations managers can use this influence to generate a net positive effect on people, the natural environment, and the bottom line. In this video, the executives and consultants involved in the design and daily operation of Gillette Stadium and Mercedes-Benz Stadium discuss the challenges and opportunities of sustainable stadium design. Topics discussed include district energy generation, gray water treatment, evaluation and implementation of new technologies, partnering with local utilities, cost recovery, profitability, and community health.
Sponsored By: Excel Dryer
Presented by: William Gagnon, Excel Dryer Inc.
Presenter Background Information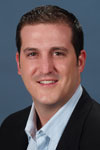 Name: William Gagnon
Title: Vice President of Marketing and Key Accounts, Excel Dryer Inc.
Background
William Gagnon is the vice president of marketing and key accounts for Excel Dryer, Inc., manufacturer of the patented high-speed, energy-efficient XLERATOR® hand dryer. William works closely with green building industry leaders including architect firms, specifiers, distributors, and end-users to determine ways in which high-speed hand dryers fit into national sustainability initiatives such as the US Green Building Council's LEED® credit system and the new "Executive Order 13514: Federal Leadership in Environmental, Energy, and Economic Performance." With over 15 years of industry experience, Gagnon frequently speaks before trade groups, contributes to key industry trade publications, and is quoted about green restroom design.
Privacy Policy: Excel Dryer Privacy Policy
HSW Eligibility: Yes