Custom Shower Solutions for the Luxury Consumer
While the bathroom was once a strictly utilitarian space, a growing trend among luxury consumers is to create a custom, spa-like wellness retreat right in the home. Surveys find that luxury consumers value functional and design excellence, uniqueness that reflects a creative side, and exceptional quality and value. This course examines the shower products available that help to create a personalized, multisensory wellness experience with beautifully designed pieces that meet water efficiency standards.
Sponsor: Kallista
Presenter: Sal Cianciolo, KALLISTA
Presenter Background Information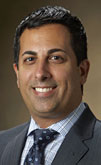 Name: Sal Cianciolo
Title: Sales Manager – Trade and Outreach, KALLISTA
Background
Sal Cianciolo has worked in the kitchen and bath building products industry for more than a decade. While managing the flagship Kohler Store at the Merchandise Mart in Chicago, he developed deep ties with the trade community. In his current role at KALLISTA, a Kohler Interiors Group business, he works closely with Interior Designers, Architects, and Custom Builders in the country's top markets, to build brand awareness within the trade community.
Delivery Format: Online, Self-Paced
Duration: 1 hour
Privacy Policy: Kallista Privacy Policy
HSW Eligibility: