Walkable, Waterproof Roof Decks & Balconies with PVC Membranes
Approximately 1 hour
All decking products designed for exterior use and under constant exposure to the elements will eventually show some signs of degradation; however, vinyl decking can be used to prolong the life cycle of various building products. This course examines walkable roof deck membranes and roofing systems and includes discussions on system characteristics, design considerations, and how to properly specify roof deck membrane systems. This program will be beneficial to architects, specifiers, and contractors involved in single- and multiple-family home construction.
Presented by John Ogilvie on behalf of Duradek Ltd..
This course is ONLINE: SELF-PACED. Experience it on your own schedule, at your convenience.
This course is rated 1 SD symbol. This course contains minimal sustainable design information. You can read more about the Sustainability Rating system.
This course IS Health, Safety and Welfare eligible.
Sustainability Rating System
AEC Daily uses the following classification system to identify varying levels of sustainable design information contained within courses.
This course contains minimal sustainable design information.
This course contains partial sustainable design information.
The majority of this course is made up of sustainable design information and this course may qualify for USGBC approved GBCI CE Hours, please check course details pages for particulars.
The focus of this course is sustainable design. This course may qualify for USGBC approved GBCI CE Hours, please check course details pages for particulars.
This course contains sustainable design education. These courses are approved by GBCI for Specific CE hours.
Accessibility Information
One symbol indicates courses that address accessible design in a small portion of the course. These courses do not meet the requirements of the California Architects Board. Please verify with other state boards before considering these courses as accessibility education.
Two symbols indicate a course in which the majority of the material covers accessible design. These courses may meet the requirements of the state boards. Verify the requirements with the boards (i.e. California and Texas) for accessibility education.
Presenter Background Information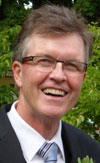 Name: John Ogilvie
Title: President, Duradek Ltd.
Background
John Ogilvie has been involved with waterproofing decks and balconies with Duradek since 1976. When the concept of a decorated, textured PVC membrane being glued to an outdoor pedestrian traffic surface was just in its infancy, Mr. Ogilvie started a contracting company focused on its sales and application. After successfully pioneering the product's introduction in the greater Vancouver market, he and his partner purchased a significant shareholding in the organization that developed the product line (they have subsequently become the sole owners).
With his contracting and marketing background, Mr. Ogilvie has been instrumental in the development of products and installation techniques that are currently being marketed all over North America. Mr. Ogilvie was a key figure in developing the product line into the industry's first approved "walkable roof deck PVC system". He is currently involved in mentoring a new generation of trainers to teach contracting firms how to install the product line, as well as leading Research and Development to ensure compatibility of all products involved in PVC membrane installation. These efforts, along with rigorous testing to ensure compliance with building code requirements, support an industry-wide network.