Achieving Style & Substance with the Newest Plumbing Innovations
Today's consumers demand much of plumbing products, expecting them to be durable, environmentally friendly, safe, ADA compliant, and easy to install, clean, maintain, and use. This course reviews the options and features of an array of restroom plumbing products and drains, examining how they not only meet functional and performance requirements but also how they add style and character to a design.
Sponsored By: Zurn Industries, LLC
Presented by: Luke Otten, Zurn Water Solutions
Presenter Background Information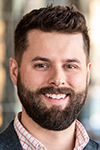 Name: Luke Otten
Title: Field Marketing Manager, Zurn Water Solutions
Background
Luke's career started in the outdoor and apparel industry working for a fourth-generation family-owned apparel manufacturer, Wigwam Mills, Inc. During his more than seven years at Wigwam, he had five different roles of increased responsibility within the marketing group, including brand and event management, digital marketing, and marketing communications. In 2018, Luke moved into the plumbing industry as Zurn's customer engagement manager. After two years in this role he shifted focus to drive growth within the sales channel as the channel marketing manager, and was later promoted to field marketing manager in July of 2021. He now oversees Zurn's training programs for internal associates and external customers, channel marketing strategy, and industry partnerships.
Delivery Format: Online, Self-Paced
Privacy Policy: Zurn Industries, LLC Privacy Policy
HSW Eligibility: Yes