The Ins & Outs of Fully Automated Parking
The availability of parking and the time it takes to park a vehicle are major challenges when designing a new development. Parking garages typically require big volumes and are not efficient with land use. Automated parking can practically reduce parking space, while providing the same (sometimes more) number of parking stalls as a conventional garage. It also improves the user experience, providing a valet parking experience, just without the valet.
Sponsor: U-tron
Presenter: Yair Goldberg, Unitronics Systems Inc.
Presenter Background Information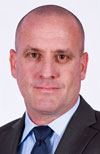 Name: Yair Goldberg
Title: EVP Sales & Marketing, Unitronics Systems Inc.
Background
Yair Goldberg is Executive VP of Sales & Marketing Americas for U-tron and a recognized leader in the North American mechanical parking industry. Yair has over 20 years of experience in industrial automation and development and implementation of automated parking solutions, with vast understanding of real-estate developments. Yair is a member of both the National Parking Association (NPA) Parking Consultants Council and the Automated & Mechanical Parking Association (AMPA) technical standards committee. Yair holds a degree in Electrical and Computer Engineering.
Delivery Format: Online, Self-Paced
Duration: 1 hour
Privacy Policy: U-tron Privacy Policy
HSW Eligibility: