Sustainable Waterproof Cabinetry: From the Patio to the Lab
When deciding on outdoor cabinetry, understanding the available material options is essential to the selection of a long-lasting, sustainable choice. This course reviews the pros and cons of these options, with a focus on the attributes, sustainability, and performance characteristics of marine-grade high-density polyethylene (HDPE) material, engineered to withstand extreme conditions while maintaining optimal structural integrity.
Sponsored By: Werever Outdoor Cabinets
Presented by: Whitney Leigh Paden, Werever Products, Inc.
Presenter Background Information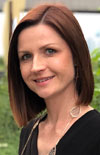 Name: Whitney Leigh Paden
Title: Architectural Program, Inside Sales and Design Director, Werever Products, Inc.
Background
Whitney Leigh Paden is the Architectural Program, Inside Sales, and Design Director for Werever Outdoor Cabinetry. Whitney holds a Bachelor of Science in Interior Design, and has more than 15 years of experience in the Architectural Materials and Furnishings and Fixtures Industries, including 5 years with Werever Products in Design, Sales, and Management roles. Throughout her professional career, Whitney has worked in a variety of capacities with manufacturers, retailers, and wholesalers to build lasting relationships with architects, designers, and contractors working on commercial, government, and residential projects.
Delivery Format: Online, Self-Paced
Privacy Policy: Werever Outdoor Cabinets Privacy Policy
HSW Eligibility: Yes