Modern Direct Vent Fireplaces for Contemporary Designs
Today's gas fireplaces make a stylish, modern design statement while providing a safe and efficient option for supplemental heat. This course explores the benefits of direct vent, electronic ignition gas fireplaces over other fuel and venting options, with a focus on the innovative features and design possibilities offered by frameless fireplaces suitable for any residential or commercial space. The benefits of a frameless fireplace design, cool wall technology, a heat control system, and integration of the modern fireplace into a home automation system are discussed, and occupant safety features such as double glass heat safety barriers are explained.
Sponsored By: Flare Fireplaces
Presented by: Kyle Brooks, Flare Fireplaces
Presenter Background Information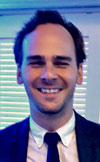 Name: Kyle Brooks
Title: Sales, Flare Fireplaces
Background
As a direct-vent expert, Kyle has been working directly with architects & designers exclusively for the last 2 years. This experience has not only given him a clear view of how to easily communicate the specifics associated with any direct vent design, but also how to implement gorgeous direct vent fireplaces into commercial or residential projects. From spec to start-up, Kyle can be a resource for using modern fireplaces to create stunning spaces.
Delivery Format: Online, Self-Paced
Privacy Policy: Flare Fireplaces Privacy Policy
HSW Eligibility: Yes