Specialty Doors for Healthcare Design
Specialty door and frame assemblies have been developed that are designed specifically for the built healthcare environment where performance criteria are critical. Reviewed in this course are specialty door and frame assemblies that meet the challenges of infection prevention, building cleanliness, patient privacy, and increased security, as well as containment of radio wave and radiation interference in hospitals and clinics.
Sponsored By: AMBICO Limited
Presented by: Stephen Peterman, AMBICO Limited
Presenter Background Information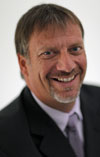 Name: Stephen Peterman
Title: Director of Sales and Marketing, AMBICO Limited
Background
Steve Peterman is the Director of Sales and Marketing and has been with AMBICO Limited since 1988. With 32 years at AMBICO, Steve has spent many years in engineering and operations fostering detailed product knowledge. His role and technical knowledge are key to ensuring that AMBICO's services and marketing continue to remain at the forefront of the specialized door, frame, and window industry.
Delivery Format: Online, Self-Paced
Privacy Policy: AMBICO Limited Privacy Policy
HSW Eligibility: Yes