Vinyl Flooring Uncovered
Vinyl is strong and resistant to moisture and abrasion, and therefore is the most widely used plastic for building and construction. This course presents vinyl flooring and its manufacturing process, testing standards, and performance characteristics. The course discusses the environmental impacts of vinyl flooring throughout its life span and its contributions to meeting green building codes and standards.
Sponsor: HMTX Industries
Presenter: Tim Davis, Teknoflor®
Presenter Background Information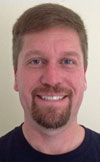 Name: Tim Davis
Title: Technical Services Manager, Teknoflor®
Background
With over 20 years of diverse experience within the flooring industry, Tim Davis is both well versed and well respected in the technical aspects of resilient flooring. His knowledge extends wide from raw materials and manufacturing, storage and handling to installation and maintenance. Having a strong focus on practical resolutions to product, application, and care related issues, Tim is able to work with end users, specifiers, installation contractors, and suppliers to identify the root cause of a concern and implement measures to mitigate future occurrences.
Delivery Format: Online, Self-Paced
Duration: 1 hour
Privacy Policy: HMTX Industries Privacy Policy
HSW Eligibility: