Sun Controls: A Sustainable Design Practice
Currently, buildings are the single biggest contributor to GHG emissions, accounting for roughly half of all energy consumption in the U.S. and globally. It is crucial to reduce this level of consumption by including high-performance envelope strategies such as shading systems in all new building designs. In this course, we look at shading systems, examine shading and design strategies, and learn tips for successful selection and design.
Sponsored By: Construction Specialties Inc.
Presented by: Jon Salis, Construction Specialties
Presenter Background Information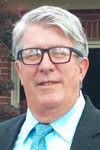 Name: Jon Salis
Title: Specification Sales Manager, Construction Specialties
Background
Jon Salis has twenty plus years of experience with specification development with building materials for commercial projects. His Design Assist Capabilities include: Problem Analysis and Conceptual to Contract Document Solution development. Jon also has experience in Project Specific Detailing Assistance, Design Intent Specification Development, Custom Product Conceptual Design Rendering, Exterior Envelope Elements and Integration.
Privacy Policy: Construction Specialties Inc. Privacy Policy
HSW Eligibility: Yes