An Introduction to Louver Selection
Louvers are an essential part of every HVAC system, but their selection and sizing is often misunderstood or overlooked. In this course, we'll take a thorough look at louver components, types, options, accessories, appropriate selection, and proper sizing for a variety of climates, including wind-driven rain and hurricane areas.
Sponsored By: Mestek Commercial Damper and Louver Group
Presented by: Greg Crosby, Airline Louvers
Presenter Background Information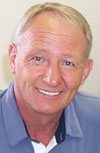 Name: Greg Crosby
Title: Vice President Sales, Airline Louvers
Background
Greg started out working for Krueger Manufacturing as a regional manager following obtaining his degree from ASU in 1975 as a Regional Sales Manager. In 1979, he accepted the position as National Sales Manager for J&J Register Company, where he remained until starting his own company in 1983: Arizona Air Devices. Arizona Air was a very successful company, which Greg sold in 1998 to Metal Industries. At Metal Industries, he accepted the position of Vice President of Sales, Marketing, and Engineering. In 2006, Greg left Metal Industries to join Mestek. Greg enjoys working with his many friends in the HVAC industry and spending time with his wife of 35 years, along with his two adopted children, Bandit and Little Bit; both very active Australian Shepherds. His two biological children have moved out and are on to bigger and better things.
Privacy Policy: Mestek Commercial Damper and Louver Group Privacy Policy
HSW Eligibility: Yes