Coatings for Steel Railing & Fence Systems
Selection of a material for a railing or fence project requires considering its long-term performance, maintenance, cost, and aesthetics. Regardless of the railing application (commercial, residential, or industrial), the coating process makes a difference to the life of the project. This course evaluates the different coating technologies available for steel railing and fence systems and discusses the factors to consider when selecting a coating for a steel railing and fence system.
Sponsor: Fortress Building Products
Presenter: C. Todd Smith, Fortress Building Products
Presenter Background Information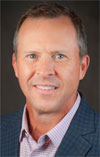 Name: C. Todd Smith
Title: Area Specifications Manager, Fortress Building Products
Background
Combined with professional experience and years of building material sales and representation, Todd relates with designers, contractors, and manufacturers, understanding their roles, needs, and goals in the construction process… passionately and respectfully working hard to provide innovative and team-oriented solutions to better the outdoor built environment. Todd enjoys time with his three grown daughters, and being outdoors, especially in the mountains.
Delivery Format: Online, Self-Paced
Duration: 1 hour
Privacy Policy: Fortress Building Products Privacy Policy
HSW Eligibility: