Sun Control Window Films
Originally developed to reduce solar heat gain from entering through a pane of glass, window films in today's market provide UV protection, reduce glare, reduce fading, increase occupant comfort, offer safety and security, and yield energy savings. This course evaluates the performance of different types of solar control window films and offers daylighting strategies for commercial, retail, and residential building and architectural applications.
Sponsor: 3M Company
Presenter: Victoria Kampmeyer, 3M Company
Presenter Background Information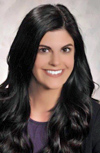 Name: Victoria Kampmeyer
Title: Inside Sales Representative, 3M Company
Background
Victoria Kampmeyer has been an inside sales representative with 3M for over two years. Her focus has been on driving sales and developing new business for 3M's decorative, sun control, safety and security, and daylight redirecting window films.
Delivery Format: Online, Self-Paced
Duration: 1 hour
Privacy Policy: 3M Company Privacy Policy
HSW Eligibility: