Bicycle Parking & Storage: Inside & Out
Lack of secure bicycle parking and storage is one of the top barriers to increased bicycle ridership. However, there is much more to selecting functional and appropriate bike storage than installing a few racks at the building sidewalk. This course examines best practices for bicycle racks and shelters for indoor and outdoor bicycle parking and storage, including typical municipal guidelines and regulations, incentives, guidance on shelters, and rack planning and design.
Sponsor: Velodome Shelters has merged and is now Handi-Hut!
Velodome Shelters/Handi-Hut
Presenter: Richard T. Cohen, Velodome Shelters
Presenter Background Information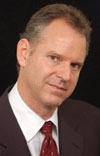 Name: Richard T. Cohen
Title: President, Velodome Shelters
Background
Richard Cohen is a biking enthusiast and the founder of Velodome Shelters. He brings a combined concern about environmental sustainability with over twenty years of experience in the metal fabrication industry.
Delivery Format: Online, Self-Paced
Duration: 1 hour
Privacy Policy: Velodome Shelters has merged and is now Handi-Hut!
Velodome Shelters/Handi-Hut Privacy Policy
HSW Eligibility: